Windows | Smartphone Android | Ipad, Iphone
Di UTHM, kami menyediakan kemudahan wifi 802.1x dimana login hanya perlu dilakukan sekali sahaja dan tidak perlu key in username dan password setiap kali ingin menggunakannya.
Sila imbas SSID Wifi disekeliling anda.
Please scan the SSID Wifi around you.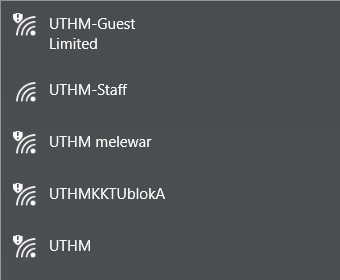 Sila pilih SSID wifi ' UTHM-Staff ' di komputer riba anda.
Please choose wireless SSID ' UTHM-Staff ' on your laptop.
Selepas itu, anda perlu memasukkan ' Username ' dan ' Password ' untuk dihubungkan terus ke internet.
After that, you need to enter a ' Username ' and ' Password ' to be connected directly to the internet.